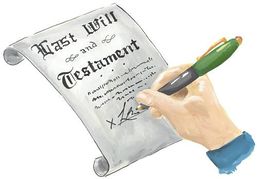 According to the 2020 Giving Survey of members of Anglican Churches, Anglicans are three times as likely to leave a legacy to another charity than they are to the church they attend. Did you know that you can leave a gift in your will to your church? Legacies, no matter the size, make a huge difference to your church.
Sadly, many people believe they do not need a will. But without one the government will have to follow the 'rules of intestacy' written over 100 years ago, and which don't consider the nuances of modern life. However, thanks to the Church of England's partnership with Farewill, by clicking this link Online Will Writing Service | Legal Will In 15 Minutes (farewill.com) and using the code COFE you can make a FREE will today. It COSTS NOTHING – and takes very little of your time.
And of course, if you choose to include us, St. James church would be glad to receive a legacy. But there is no obligation to.
If you need more information, Gill Keighley and Paul Buckmaster have already used this service, and can advise.