Weddings and Blessings
This year we have been blessed with the celebration of a number of Church weddings across the benefice.  In August we celebrated the Sacrament of Marriage at S. Oswald's and at S. James'.  Already next year we have over ten weddings in the Parish diary.
As a Priest there is something wonderfully joyful in celebrating a blessing or the wedding of a couple.  In the months leading up to the service, you meet the couple several times to make sure all the details of the wedding are just right.  In that time you build up a real bond of friendship, so that when it comes to the day of the rehearsal and the Wedding Day itself, there is a sense of joy, of hope and wanting all the very best for the couple.
Marriage in Church adds that extra dimension of spiritual love.  Jesus himself was a guest at a wedding in Cana and through his spirit, we pray at the wedding that he may bless the couple and bless their home.
It is a joy to welcome a couple to our beautiful and holy buildings.  Our Church buildings stand at the heart of our communities. They are where people have gathered down the years in moments of joy, excitement, thanksgiving, or sorrow.  As a couple come to that building once again, it may have special bonds of love and affection for the family.
Church is more than just a building; it is also a community of love.  It is my prayer that as the family of the church in this place, we may welcome all who seek marriage or the blessing of a relationship as we seek always to build a community of love.  Our Church is the place where everyone should feel blessed and loved by God.
If you, or a member of your family, seeks a blessing of a relationship, or the celebration of marriage do please be in touch with Fr Peter.  We want to make a special day truly personal, spiritual and wonderful.

S.O.D'S
Fr Peter and family were so delighted to be able to attend the recent S. Oswald Dramatists production of Fame!  It was a brilliant summer school production, brought together in just a week.
We have some amazingly talented children and young people in our community.  We are also blessed with some incredibly dedicated, hardworking, and inspiring leaders.  Well done to all concerned.

Teddy Bears' Picnic
Our benefice is so very fortunate to have such a wonderful ministry to children and their families through Ducklings, Little Fishes, and Stay & Play Service.  Stay & Play at Pilling has been meeting throughout most of the summer holidays.  They ended the summer season with a happy Teddy Bears' Picnic.  Leaders and children shared picnic food and brought their teddy bears for an adventure.  Very well done to Annette, Judy, Maureen, and Adele for all their dedication and hard work.  It is so profoundly appreciated.  It was also so lovely that Rev Naomi and her mum, Sue, were able to be present at so many of the summertime Stay & Play sessions.  We see Naomi living out her Christian discipleship in the whole community and in her love of family.

Birthday thanks
I have been overwhelmed by gifts, cards, and good wishes for my recent birthday.  I was so touched by the kindness of so many of the family of our benefice.  My birthday was a busy Sunday morning, including a rendition of happy birthday from the congregation at S. Oswald's.  This was followed by a lovely Baptism at lunchtime at Pilling.  In the afternoon Adele and I could relax and enjoy the company of family.  It was a perfect day.  Thank you to you all for making it so special.

Harvest celebration.
The last Sunday in September sees some special Harvest celebrations at Out Rawcliffe and Stalmine.
Out Rawcliffe celebration 9:30am Sunday 24th September
Stalmine's celebration of Harvest is based on the beautiful theme of love.  It is a chance to express our gratitude for the gifts of love and joy we receive from family and friends, good health, plentiful food and indeed the whole of creation.  It includes a Harvest service in the morning of 24th September at 10:30 am, and a special service of Choral Evensong for Harvest later that same day.
1st October sees Harvest celebrations at Preesall, Pilling and Hambleton.
Preesall Harvest Festival includes a very special, All Age service at 10:30am.
Hambleton gather for their Harvest service at 11am on 1st October.
Meanwhile at Pilling, the School will lead the Harvest celebrations in the morning.  In the evening of 1st October, Pilling band give the musical accompaniment to the singing at the village community Harvest Festival.
On the 8th October there is no service at Pilling.  Instead we are all invited to Eagland Hill for the village community Harvest Festival at 10:30am
As members of one benefice, we are all invited to share together in the celebrations at any of our churches.  Each is unique, special, and different.  If you can't be at one, don't be afraid to travel to another church.  We are all one family, sharing together in thanks for the love of God and the beauty of creation.  Please make sure you come and support your own Church, and each other, at such an important festival for our villages.  This is a real opportunity to invite family and friends to make it a special Harvest thanksgiving.
SPACE FOR CHILDREN
Over the past two years work has been going on to give a space to our young people and their parents leading to three initiatives within the Benefice being formed.  Little Fishes at St. James, Stalmine on a Friday morning; and Stay and Play at St. John the Baptist, Pilling on a Wednesday morning, both for the babies and pre-school children.  In addition, the third group has been growing a Stay & Play Service at St. Oswald's, Preesall. 
The Stay & Play Service has now been running for over twelve months and is attended by fifteen to twenty families on the first and third Saturdays of each month.  It is a space for children of all ages from all churches within the Benefice to come with their parents/grandparents/carers.  It is a free and easy time starting with a light buffet breakfast and play with toys from 9.30 am leading to a short fifteen minute service at 10.00 am, followed by a related craft session which everyone can enjoy.  The morning is brought to a close at 11.00 am with prayers and a song.
The Saturday Group is organised and run by a team of members from the churches within the Benefice, led by Fr. Peter and Rev. Naomi.  Team members arrange the themes, present the service, help with craft and serve the food.
The whole morning is a joy to attend.  Adult chats, children's play and craft all brought together with worship, bible stories and fun make these Saturday mornings very special in the service diary of our wonderful churches.
Everyone is welcome to come and join in – come on a 'find out' visit, come for coffee and toast.  All our families love the service where we share Jesus together.
Jesus wanted the children to be brought to him:
this is what we aim to do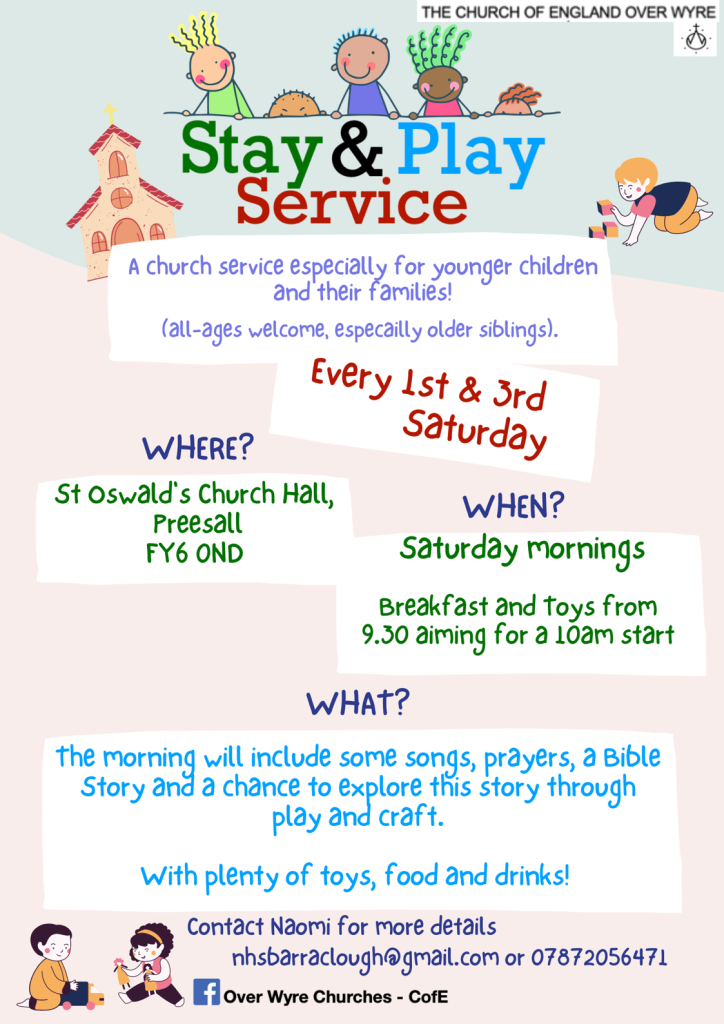 A few months ago we ran a babies and toddlers parenting course. 
Right from their very earliest days, babies and toddlers can meet and know God.  Parents and carers get to be a key part of helping them to do that, and churches, friends and family all make up the supportive community that encourages and equips them on the journey.
And so, on Tuesday evenings for four weeks, a few parents, grandparents and those involved in ministry with under fives met together over a few drinks and nibbles to learn, listen and share together. 
We joined with people from all over the country via Zoom as we thought about how we can nurture the youngest in our congregations and families. 
The evenings involved watching a 10min video provided by 'Parenting for Faith', and talking through ideas and our experiences.  (You can find the videos here if you want to have a look: www.parentingforfaith.brf.org.uk/babies-and-toddlers)
It was a great few weeks that helped us process what we believe about children and their relationship and connection to God and gave us ideas about how we can help nurture them in this. 
We all agreed we would like to meet again looking at the 'Parenting for Faith' resources for children of all ages, babies through to older teens. So do keep an eye out for this opportunity. 
The final video in particular really spoke to me.
It was all about prayer.  Prayer, it said, is simply talking to God about our emotions and thoughts, there is no right way to do it, there is no set way to do it. So be honest, be real and do whatever feels natural and comfortable for you.
God loves it when you share what you are thinking and feeling with him because he LOVES you.  It is not because he doesn't already know the details of what is going on in your life: he knows and cares about each one of them.  But you will discover an amazing connection as you take a moment to share with him and know that he listens and understands. 
I loved this truth that God listens and understands, that he already knows but loves it when we talk to him and build our connection with him. 
The video went on to talk about how we can tell God when we don't know why our baby is crying, or when we are grossed out by the mess on the highchair, or that we get scared when we are so frustrated that we don't know what to do.  God is there for all these things and more. 
The speaker said that few people want to know as much about the intimate details of your child's life as the parents do, maybe grandparents, but there are not many people who want to hear over and again about their poo, their cough, their new noises, their sleep, but God is there wanting us to talk to him about everything and delighting in each thing just as we are.
I was overcome with emotion hearing this.  Because over this last year, over the last 4.5 years, I have been blessed time and again by church communities who ask me about my children and my life.  By people who listen to me when I tell them again about how I have had no sleep or how there are first steps or new noises.
I have been and continue to be so blessed by you all.  Your care and understanding, your prayers and your love. 
Thank you, each of you, for showing me something of God's heart, for welcoming me and my children into this corner of the family of God. 
I am so grateful and so excited to share this with others too.  To think together about how we can welcome others into the family of God, how we can show God's intimate and involved love and care to others.  I look forward to thinking together more about how we can learn from each person, youngest to the oldest, about who God is and that each of us has a valued placed in this family. 
I was also moved by the reassurance that God cares and is with us even when we are the worst versions of ourselves, even when we are exhausted and grumpy. 
'come to me all who are weary and heavy burdened'. 
It doesn't say, come to me all who have got clean houses and have filled all your paperwork, it doesn't say come to me all who have had 8h sleep and been to the gym, or those who have completed their to do lists, or those who can reply to emails in a timely fashion, or those whose relationships are all going smoothly, or those whose children are sitting still and behaving or those whose life has gone to plan. 
'Come to me those who are weary and heavy burden and I will give you rest'. 
Jesus promises to be with us, to hear us, and to hold us. 
'Take my yoke upon you and learn from me, for I am gentle and humble in heart, and you will find rest for your souls.  For my yoke is easy and my burden is light'. (Matt 11:28-30)
He is gentle, and in him you WILL find rest for your soul. 
What an encouragement to take with us. 
If you want to know more about Jesus and his promises to us, or about the truth of God's love and acceptance, then do email, call or take the opportunity to talk to me or others in church. 
If you have any thoughts on how we might welcome and love as a family, including all from the youngest to the oldest, then I would love to hear them and think together how we can share God's love.  
May we be a people of prayer, may we chat to God through our days, sharing the details, not because he needs us to but because he wants us to, may we be a people who come to Jesus and in him find rest.  And may we share this rest, this love, this family with others.
Rev. Naomi