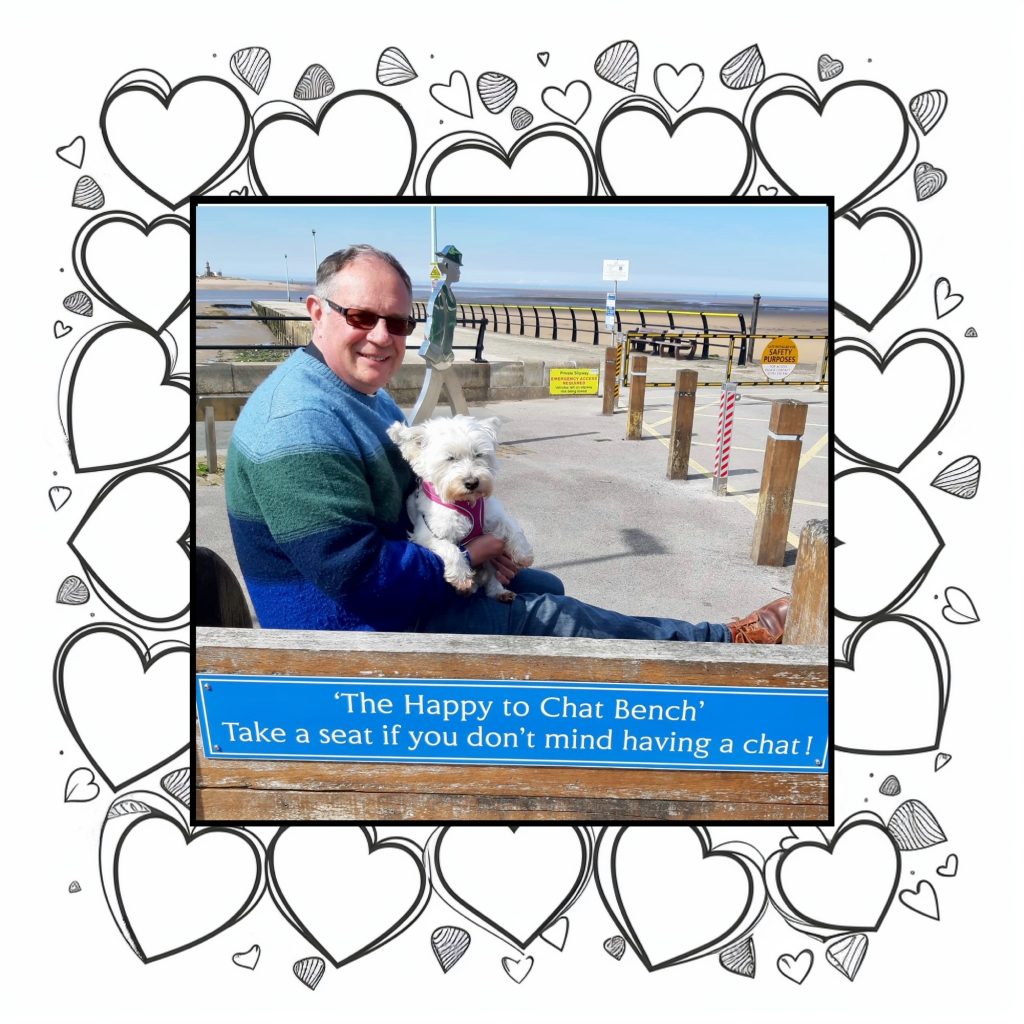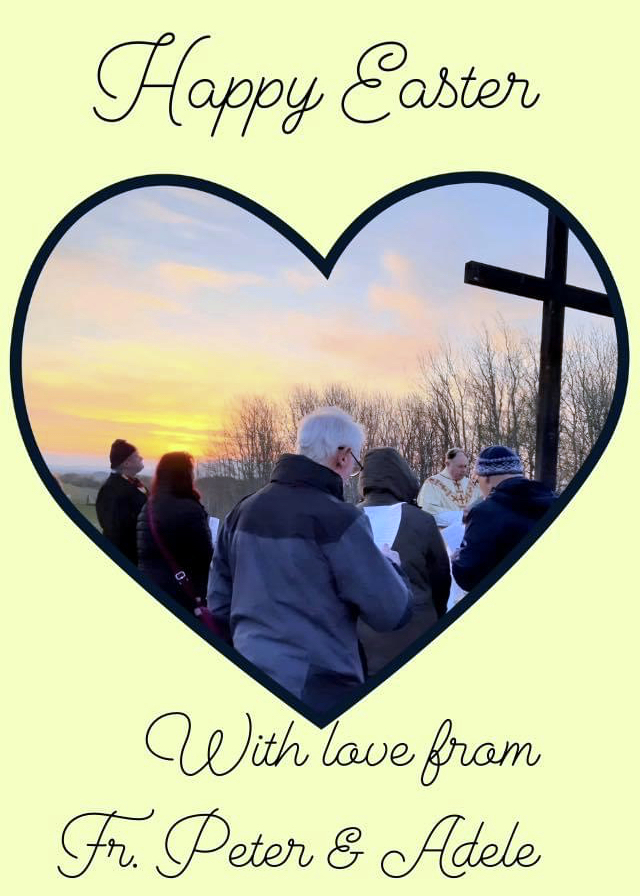 Easter Day!
Fr Peter celebrated Communion just as the sun was rising at the Pilling Amenity Site.  It was a moment of profound joy as we greeted the dawn and greeted our risen Lord.  Fr Peter was surrounded by representatives of our own Churches alongside members of Pilling Methodist Church and St Williams Roman Catholic Church.  As Churches Together, we celebrated with fellowship, Word, Sacrament, and music the eternal truth of the resurrection.
The fact of the resurrection gives joy to the whole world.  Our benefice has been truly blessed with joy this Easter. After Communion at dawn, Fr Peter went on to celebrate Communion at Eagland Hill before traveling to all the other five Churches in the Benefice.  At every Church, Adele and he found a spirit of joy, excitement, and hope.  Every Church was beautifully decorated with amazing flower arrangements.  Every Church was spotlessly clean, with brass shining in the early spring sunshine.  Every Church had well prepared and uplifting liturgy and music.
The journey around the Parishes was only possible because of an amazing team of dedicated and hardworking clergy. We are truly fortunate to have such gentle and loving servants of the gospel and celebrants of the sacrament in our PTO's. I ask you to thank God for them each day in your devotions at home.
Our Churches looked so beautiful, and the liturgy so inspiring because of the fantastic family of our benefice.  Many peoples work is unseen, but believe me when I say, I notice these things, and realise how much time effort and hard work is given to our churches by so many people.
As we celebrate the radiant joy of Easter I want to thank everyone from musicians, organists, singers, to readers, intercessors, flower arrangers, to cleaners, to ALMs and LLMs, to warden's, administrators, and PCC members, to gardeners and maintenance people.  You are an amazing family of God congratulations and thank you.
Happy Easter!  Christ is Risen!
Eagland Hill news
Fr Peter has written about a new initiative at Eagland Hill with Holy Communion on the first Sunday in the month at 5:00pm.  We are thrilled to host this service for the whole benefice. We look forward to welcoming people from any of our churches.
This initiative will begin on Sunday 4th June, the feast of the Holy Trinity.
There will be no evening service at Eagland Hill on the first Sunday of May.  This is Coronation weekend, and we are all encouraged to attend community parties and festivities on that afternoon.
Friends and strangers will be given a very warm welcome at Eagland Hill at our first evening Communion on Sunday 4th June 5:00pm.
FROM REV. MAUREEN
How did we come to live in Hambleton?
I've been asked this question quite a few times since November 2022 when I retired from Parish Ministry in Shropshire. To some people it might seem incredible and to others it might seem logical, to John and I it seemed amazing!
We lived in Ashton-Under-Lyne where I was a teacher and John was a Service Engineer. I trained for Ministry and served my Curacy in a village just outside Oldham, Leesfield. After 4 years, in 2002, I became the Vicar of Heywood, near Rochdale. In 2009 we moved to Meltham, the village next to Holmfirth, where I was the Vicar for 9 years. A chance meeting with Mark Rylands, Bishop of Shrewsbury, took us to serve in five very rural villages near Ellesmere. So over all these years we lived in different Vicarages and Rectories.
My retirement meant we had to move and, as they say, the world was our oyster. We were no longer needed for babysitting as our Grandchildren are all older now.
On my day off we looked around various areas that we liked but it was a night of dreaming that changed our lives and secured where we were going to live later in the year. 'Look at the Fylde Coast', 'Why are you not looking at the Fylde Coast?' were the voices I heard that life-changing night. Checking on Rightmove the following morning some very nice properties came up on my computer screen but, there was one that stood out to both John and I, the rest they say is history.
Around Epiphany Linda Shipway delivered a sermon that had a profound effect on many in the congregation at Hambleton, me included. She talked about some of those incredible dreams that we read about in the Bible, and, on that day particularly the dreams of Joseph and the Wise Men. They listened and followed what was told them in their dreams. Their lives were changed forever and the Christ Child was kept safe.
As I listened it struck me that, in following those dreams that took over from sleep that night, John and I had obeyed what God wanted us to do.
I'm sure that our lives in Hambleton and in the Benefice of Over Wyre will be blessed richly. We both look forward to getting to know you all and to serving God as we share this precious journey together.
With my love and my thanks for all that has been in the last five months,
Revd. Maureen and John
xxx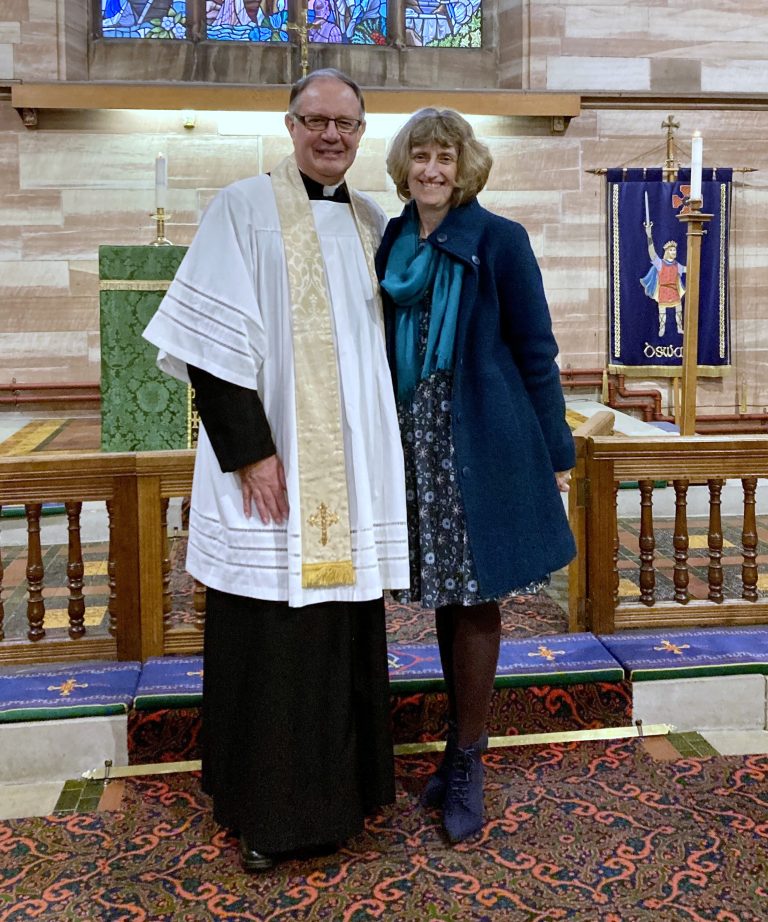 News
The snowdrop walk.
Fr Peter, Adele and Joan enjoyed a pleasant soup lunch and afternoon walk around Pilling at the beginning of February on the snowdrop walk.  The locals schools and organisations staged displays in the old church and everyone strolled around the village admiring the clumps of snowdrops with their hope of spring and better weather to come.  There was a tremendous selection of warming soup on our return to the Church Hall, accompanied by an amazing collection of cakes.  Funds raised were for the Pilling Coffee Feast.
Future events
Wyre Mayoral Charity Concert
Hambleton Parish church are to host a charity fund raising event for Councillor Julie Robinson,  the Mayor of Wyre. Blackpool Male Voice Choir will hold a concert in the church on the 14th April at 7.30 to raise funds for the Mayor's charities.  They have offered their services free of charge, and the church will be providing the refreshments. Do please support this worthy cause.