It's been an emotional few days, for sure.  The news of Queen Elizabeth II's passing on 8th September, has prompted an outpouring of grief the world over.
This was the backdrop for the newly revived Pet Service.  In the light of the late Queen's love of animals, the service went ahead, beautifully blending tributes to and reflections on Her Majesty, with thanksgiving for our beloved animal companions.
Queen Elizabeth's love of corgis is well-documented in both word and image as is her passion for horses.  Perhaps not so well-known, is her pigeon racing hobby!  She is also credited with inventing a new canine breed – dorgis (dachshund x corgi), owning an elephant, two giant turtles and a pair of sloths!  Such fun facts were shared with the congregation, sitting outside with their own beloved pets in the warm September sunshine.
To everyone's amusement, the singing of 'All things bright and beautiful…' was amplified with tuneful howls thanks to the many four-footed and full-throated hounds!  The pets were blessed and they, and their well-behaved humans, listened attentively to a reading from the Book of Genesis about God's creation of the world.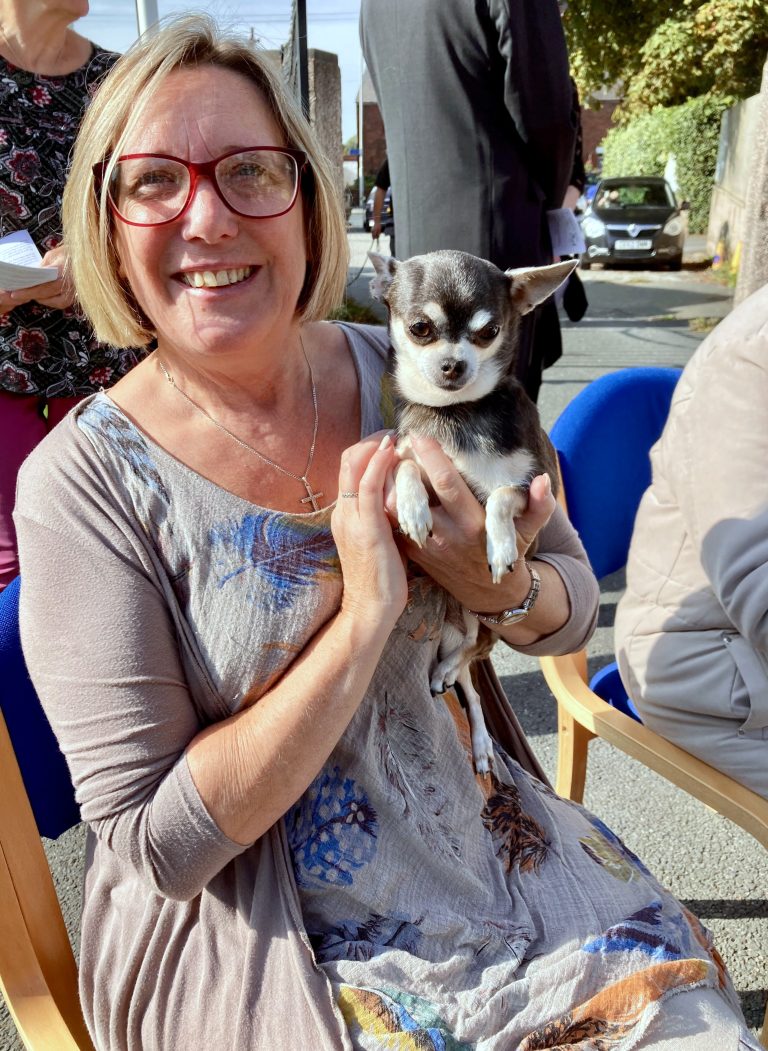 Colourful rosettes were distributed and adorned collars and harnesses to mark participation in the service before a procession into church, where candles were lit in loving memory of our late Queen.  A minute's silence was held, and the animals complied beautifully!
More reflections followed, on what the Queen has meant, with one child suggesting she was like a 'Nan' to us.  Words from one of her speeches, following the 9/11 disaster were shared:
"The love will have been enough; all those impulses of love return to the love that made them.  Even memory is not necessary for love."
TJ reminded everyone of the beautifully crafted film from the Queen's Platinum Jubilee where she famously shared an afternoon tea with Paddington Bear, pulling out a marmalade sandwich from her trusty, shiny black handbag.  TJ read a poem about the occasion, much to the delight of everyone in church.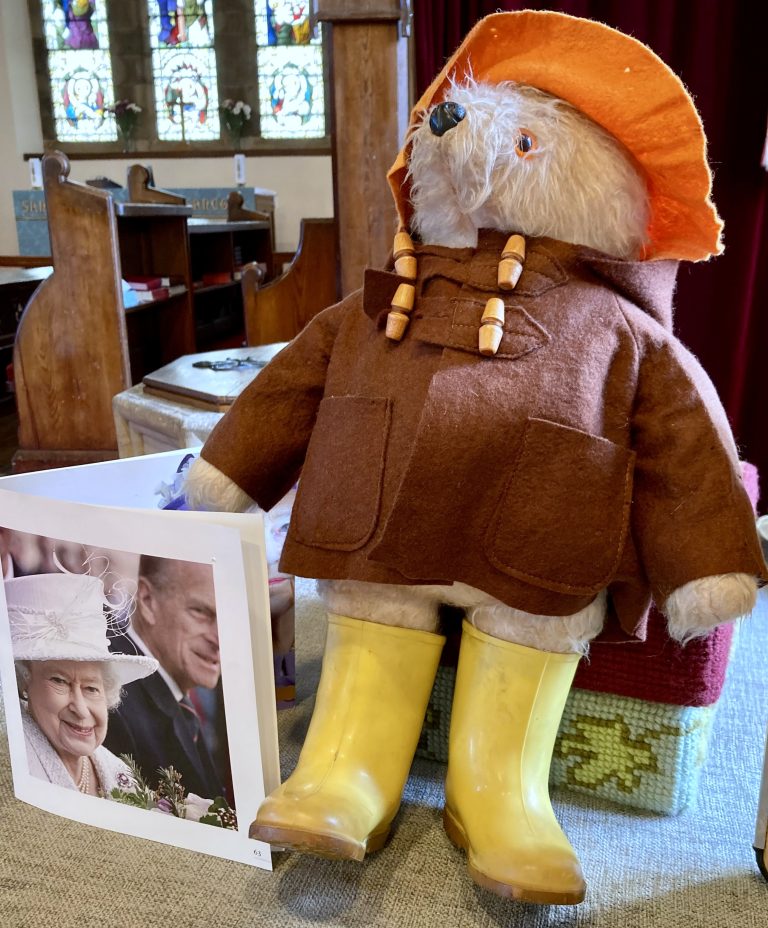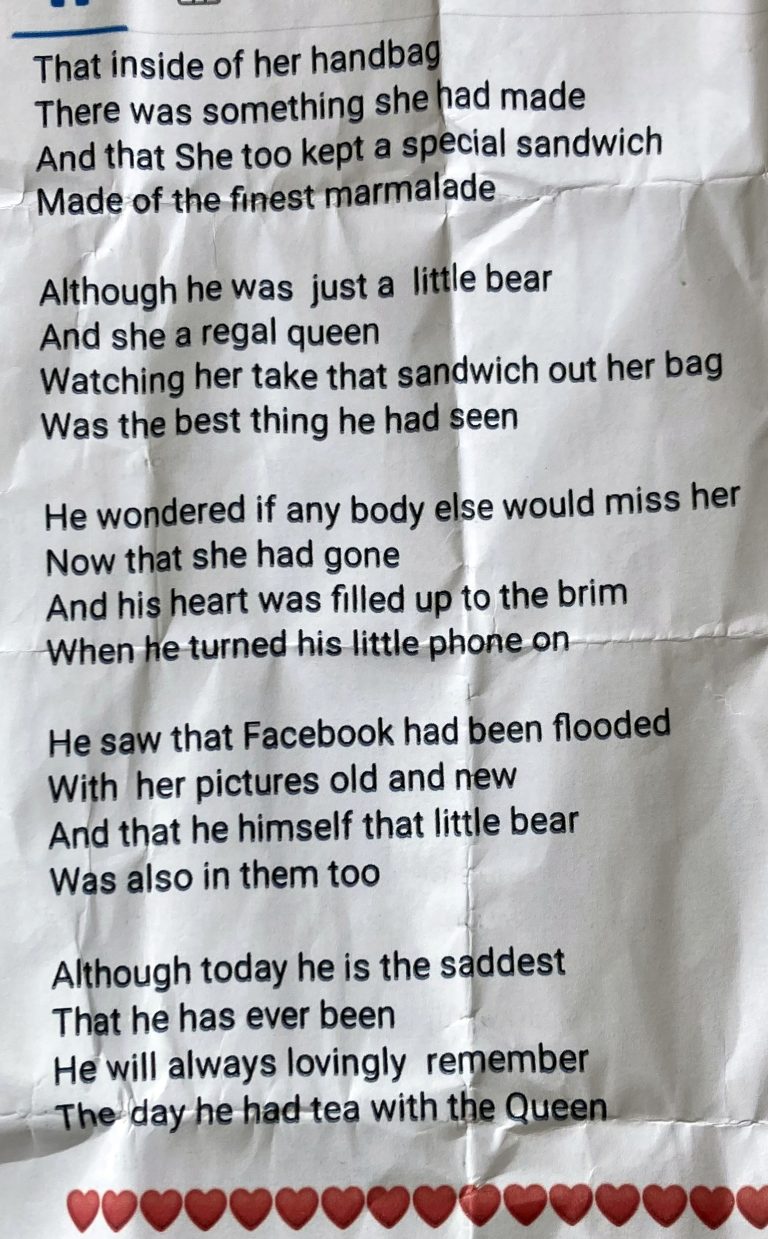 Our challenge now, is to love and serve following the Queen's example.  
The words of the hymn: 'The Servant King' held a special resonance – "Not to be served, but to serve…" The sharing of the Lord's Prayer, thanksgiving for the life and service of the Queen and prayers for blessings on King Charles III, drew the service to a close.  
For many, the singing of the National Anthem, with minor but unfamiliar word changes, proved quite emotional.