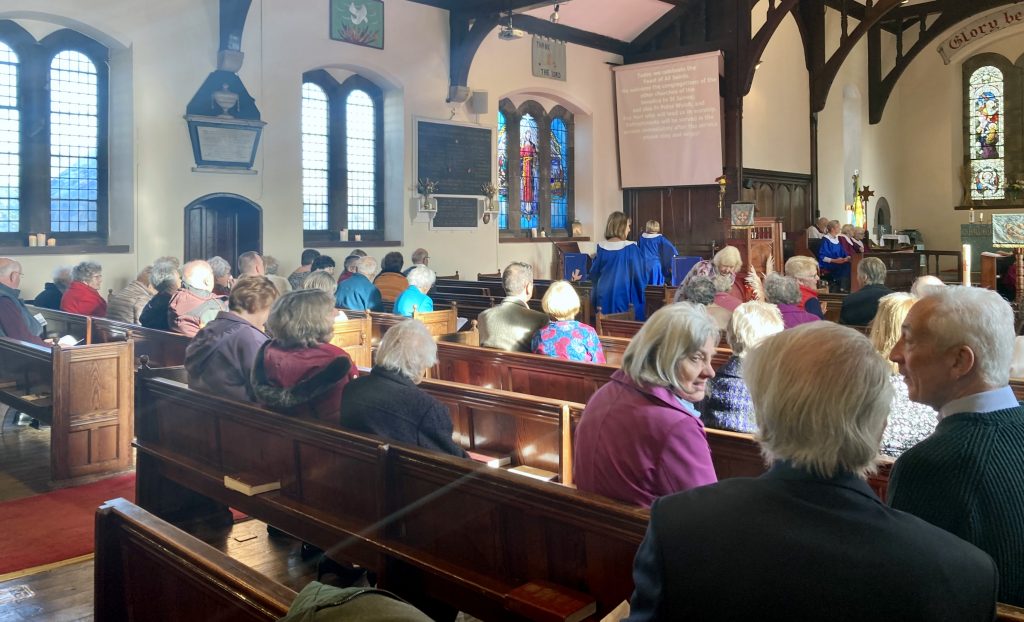 Sunday, 30th October, was a joyful occasion for several reasons:
The feast day of All Saints was celebrated.
It was the first time Fr. Peter Walsh (newly appointed Associate Priest to the Over Wyre clergy team) had taken a service at St. James'.
The congregations of the Over Wyre Benefice came together to worship.
There was much to be happy about.
Fr. Peter spoke about how the saints are like the superheroes of our faith.  He reminded us of how we are familiar with the names and deeds many of the saints; we give thanks for them and rejoice in their example.
The words of the 1860s opening hymn, 'The Church is One Foundation', boldly reinforced this message…
"Yet she on earth hath union
with God the three in One,
and mystic sweet communion
with those whose rest is won.
O happy ones and holy!
Lord give us grace that we,
like them, the meek and lowly,
on high may dwell with Thee."
Samuel John Stone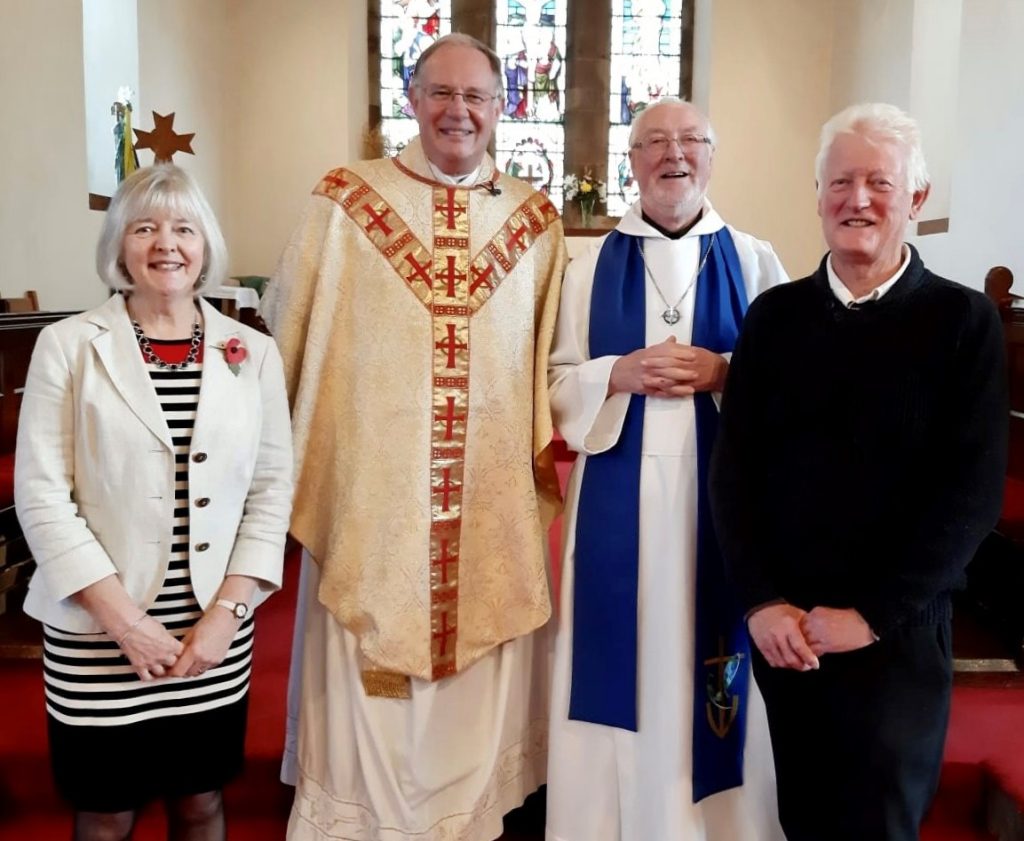 The homily was delivered by Ray Hart, Licensed Lay Minister, whose work tends to base him mainly at St. John the Baptist, Pilling.  He described saints as men and women whose lives were transformed by God, and whose subsequent witness to Christ's teachings became transformational to those around them.
The celebration of the feast, invites us all to 'shine like stars for all eternity'.  He spoke about how every era has its saints.  Whilst the struggles may change, the heroes are still among us. We are all called to be saints…and we should all aspire to respond to that call…to do our best.  He concluded that at the end of the day, Jesus Christ will ask no more of us than that.
There are no prizes for guessing which hymn was sung with gusto at the end of the service!
"For all the saints who from their labours rest,
Who thee by faith before the world confessed,
Thy name, O Jesus, be forever blest.
Alleluia! Alleluia!"
William Walsham How (1864)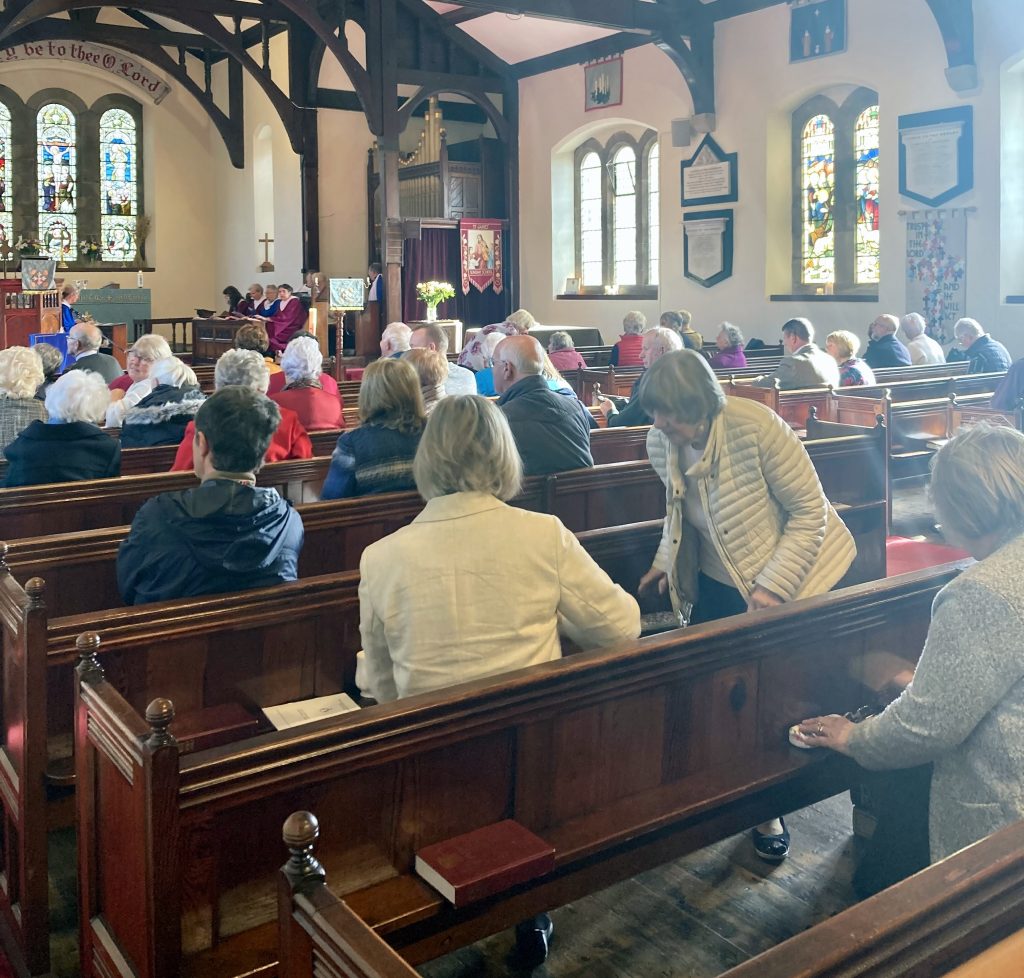 Sunday Club was running within the service for the little ones to enjoy. Song, prayer and crafting were on the menu today!  Fr. Peter invited the youngsters to share the fruits of their labours with the congregation.  Sparkly gift bags were held aloft, bags from which little presents had already been shared with parishioners as they returned to the main service.  TJ, elected to be spokesman for the merry band, reported that bubble prayers had been blown and sent heavenward.  Our own little saints of the future, already in action and bearing witness.
Of course, it's not possible for visitors to come to St. James' church and not taste homemade sugary confections!  There was plenty to share and enjoy with a brew after such a joyful celebration.