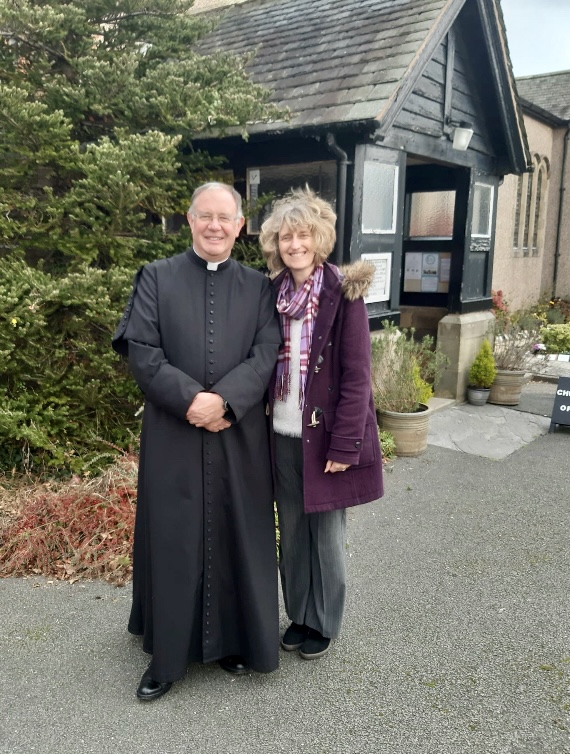 BENEFICE ANNOUNCEMENT 8th January 2023
We are pleased to announce that Father Peter Walsh has been appointed as Interim Priest for the Over Wyre Benefice for twelve months during the vacancy of the Incumbent. Fr Peter will be licensed to his role by the Bishop of Burnley at the start of February.
The Diocese have secured a rental property for Fr. Peter and Adele for the next twelve months, for them to have a base here Over Wyre. This will be their home and the administrative centre for the Benefice, whilst the appointment process for a new Vicar takes place.
This property will save Fr. Peter and Adele traveling back and forth to the Parish, sometimes as often as three or four times per day.
The property is a semi-detached house on Head Dyke Lane, exactly on the boundary of Preesall and Pilling Parish.
Having Fr Peter and Adele with us will smooth the way to the eventual appointment of a new Vicar, this may take some time. However, this process has already begun, and even now the PCCs are beginning to think about our needs for the future. Whilst all this is happening, please continue to pray for our Parish and for Fr Peter & Adele at this crucial time.
Head Dyke Lane Property

Parish Church

Time to travel by car

Distance

S. Oswald Preesall

4 minutes

1.8 miles

Stalmine

4 minutes

1.9 miles

Pilling

4 minutes

2 miles

Eagland Hill

9 minutes

4.1 miles

Hambleton

8 minutes

4.3 miles

Out Rawcliffe

11 minutes

6 miles
The New Testament does not mention the word Priest in relation to the early Christian community.  Instead it uses a Greek word for the leaders of the Church which translated literally means 'overseer'.
I see my role in the coming weeks and months as one who oversees all that is happening.  I see myself caring for the people of Over Wyre and overseeing the life and liturgy of our lovely Benefice.  I shall help coordinate Parish Ministry with the hard working and dedicated team of lay leaders and Priests, who we are so blessed to have as the family of our Church.
I am not here to be the new Vicar, and in the fullness of time, a new Priest will be appointed.  In the meantime, it is my joy and privilege to oversee the life, work, and witness of our community.  I shall be an interim servant and leader of our community.  However, this does not mean we are simply here for the short term.  Adele and I have already put down deep roots and feel enfolded in the love of this special community.  We are deeply committed to you all, and are here for the long term.  We shall be working together as team to build a community of love.
Rev Naomi is a full and active member of the leadership team, and we shall want to stay connected with her as a friend and colleague.  However, she remains on Maternity leave and this precious leave time with her young family should be respected.
We shall try our utmost to retain the current pattern of ministry across the benefice.  Clearly without Fr Andy's guiding hand, and without the faithful enthusiasm of Rev Naomi, it will not be possible to keep everything going.  We must be realistic about what we can achieve.  However, we are determined under the grace of God, to not only maintain things but also to build up the faithful in love, joy, and service.
We must not expect too much from our Priests and laity.  No one must become overwhelmed by the busyness of their roles.  However, I rejoice in working as a team.  I know that together, God will feed us with his Word and the Sacraments to guide us to great things.
Things may sometimes become frayed at edges, and I may not always get it right as we rapidly try to take up the reins.  But I know that we can move forward in faith from the sudden and tragic loss of our much loved and faithful Vicar.
Adele and I shall work together as your fellow servants of the Gospel.  Adele has already attended the Mothers' Union branches.  She is helping at
'Stay & Play' and 'Ducklings' and she has been calling in at 'Little Fishes.'  Together we see you as our family, as brothers and sisters in Christ, and we look forward to getting to know you more and more in the coming weeks and months.
Pastoral care
Baptism
If anyone has a child, or family member, who would like to be Baptised please speak to Fr Peter.  We are always thrilled to celebrate the Sacrament of baptism.  Fr. Peter will organise requests for a Baptism and pass them to their respective Church community.  In each Church the Baptism coordinator and local Priest will arrange the love and care of the young family.  It is particularly important that young families feel welcomed and loved by the church community.  We want to reach out with love and friendship to young families.  That they feel affirmed and valued by the Christian family.
Weddings
Any request for the Sacrament of Marriage should be made to Fr Peter.
As our Lord Jesus Christ was a guest at a Wedding in Cana of Galilee, we want a couple to feel the love and joy of the risen Christ in their hearts and homes.
Funerals
Arrangements for a funeral should initially be made with a Funeral Director who will then contact Fr Peter.  He will delegate the celebration of a funeral to the local Church or to a Minister with a particular pastoral connection with the family.  It is our Christian calling to care for the widowed.  It is our Christian hope to give love to those who grieve, and to commend the soul of a loved one to the care of almighty God.
Visiting the sick
We are blessed with a wonderful team of pastoral helpers across the benefice.  They faithfully take Communion to people at home or in the Nursing Homes of our Parish.  They undertake a beautiful and caring ministry.
We ask to be informed of any sick or distressed people, so that they may be visited and surrounded by the love of the Risen Lord.
XXX
Please do not feel that you are own you own.  Not everything will be able to happen as it did under the outstanding, yet humble ministry of Fr Andy.  However, through prayer, the power of the Gospel and the sustaining love of the Sacraments we shall seek to serve the Parish with encouragement and joy.  Please pray for me as I pray for you, that God's love may be known in this great community of ours.
Fr Peter Walsh