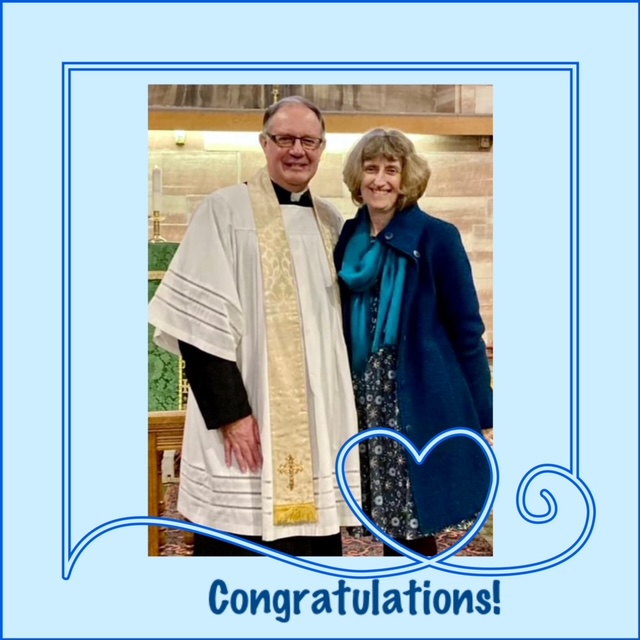 📣 NEWS FLASH 📣
BENEFICE ANNOUNCEMENT 21st October 2023
Following the announcement on 1st October of Fr Peter's appointment as the next Incumbent, arrangements for the Induction are now becoming clearer.
Fr Peter's current twelve-month contract runs until 5th February 2024.  He and Adele will then move to the new Vicarage.  As a Priest, you are allowed three weeks to move house, set up your new office and prepare some of the background administrative work for ministry.  Fr Peter & Adele already have some holiday time in the spring as well.
Therefore, liaising with Archdeacon and Bishop's diary, the Induction will take place at Pilling on Sunday 3rd March at 3 p.m.
It is hoped that this will be a big community event where we are able to invite representatives from across the benefice to share in the joy of this new start.
The next Sunday after the Induction (10th March) will be Mothering Sunday.  The following Sunday (Lent Five, 17th March) we hope to have a United Benefice service at Hambleton.  This will be a great celebration for the family of our entire Benefice.  This Sunday will then lead through the cross to the joy of Easter.  At the same moment in the year there will be a series of Annual Parochial Church Meetings.  There will be very much a sense of conclusion and of new beginning in the presence of the risen and glorified Jesus.
We can look to these coming months with a great sense of joy and a great sense of thanksgiving for all the hard work that is happening across our Parishes by so many people both laity and ordained.  We are truly blessed to have such an amazing family across our Benefice.  Well done everyone, your work is profoundly appreciated and Fr Peter hopes in some small way to build upon and encourage that work.
BENEFICE ANNOUNCEMENT 1st October 2023
🙌🏻 It is with great joy that we announce today, that Fr. Peter is to be the new Parish Priest of the Over Wyre group of churches.
👏🏻Fr. Peter and Adele are thrilled to be able to continue the work they have begun over the past twelve months.
😍 They look forward to working with amazing and dedicated people in our churches, schools and the wider community.
🗓️ A date for when Fr. Peter will commence his new role will be announced as soon as possible.
🙏🏻 In the meantime, Fr. Peter will continue his work as Interim Priest, so please hold him and Adele in your prayers at this wonderfully exciting moment.
In the interim:
Pastoral care
Baptism
If anyone has a child, or family member, who would like to be Baptised please speak to Fr Peter.  We are always thrilled to celebrate the Sacrament of baptism.  Fr. Peter will organise requests for a Baptism and pass them to their respective Church community.  In each Church the Baptism coordinator and local Priest will arrange the love and care of the young family.  It is particularly important that young families feel welcomed and loved by the church community.  We want to reach out with love and friendship to young families.  That they feel affirmed and valued by the Christian family.
Weddings
Any request for the Sacrament of Marriage should be made to Fr Peter.
As our Lord Jesus Christ was a guest at a Wedding in Cana of Galilee, we want a couple to feel the love and joy of the risen Christ in their hearts and homes.
Funerals
Arrangements for a funeral should initially be made with a Funeral Director who will then contact Fr Peter.  He will delegate the celebration of a funeral to the local Church or to a Minister with a particular pastoral connection with the family.  It is our Christian calling to care for the widowed.  It is our Christian hope to give love to those who grieve, and to commend the soul of a loved one to the care of almighty God.
Visiting the sick
We are blessed with a wonderful team of pastoral helpers across the benefice.  They faithfully take Communion to people at home or in the Nursing Homes of our Parish.  They undertake a beautiful and caring ministry.
We ask to be informed of any sick or distressed people, so that they may be visited and surrounded by the love of the Risen Lord.
XXX
Please do not feel that you are own you own.  Not everything will be able to happen as it did under the outstanding, yet humble ministry of Fr Andy.  However, through prayer, the power of the Gospel and the sustaining love of the Sacraments we shall seek to serve the Parish with encouragement and joy.  Please pray for me as I pray for you, that God's love may be known in this great community of ours.
Fr Peter Walsh