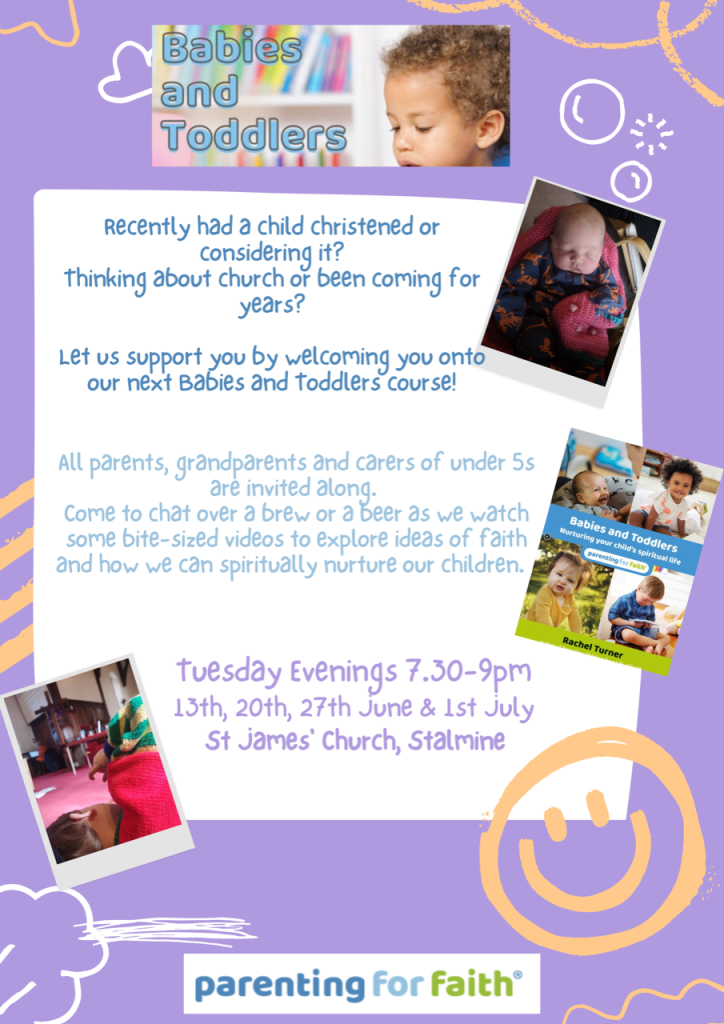 Right from their very earliest days, babies and toddlers can meet and know God.  Parents and carers get to be a key part of helping them to do that.  It is a huge privilege to be part of a child's growth but sometimes we don't know where to start or what to do. 
On Tuesday evenings in June and July, the Over Wyre Benefice is hosting a four week course to help us think more about nurturing the spiritual lives of under fives.
Using bite sized videos, we will explore a bit more about sharing faith with our children. 
This is an opportunity to meet together as adults and chat over a brew or a beer. 
The evenings are suitable for those enquiring about baptism, those coming to toddler groups, all-ages service or those who have been coming along to church for years.  Parents, grandparents and carers are all welcome to join in. 
Tuesdays, 13th June – 1st July 7.30-9 pm, St James church, Stalmine. 
If you can't come in person please let us know as there is an option of joining in online.
As church, friends and family we have an invaluable role of supporting, encouraging and equipping people as they share faith and nurture their young children.   We would love some volunteers to help host the 'Babies and Toddlers Course' being offered for parents and carers of under fives.  We need help welcoming people, getting drinks and snacks, and chatting to those who come along.  Could you spare a few hours on Tuesday evenings in June?  Please let Naomi know.