Holly boughs and berries adorned the window ledges amidst flickering candles, abundant green foliage woven into an Advent wreath graced the Baptismal font, a Christmas tree laced with twinkling lights and stashes of wrapped presents underneath its branches…preparations for Christmas at the church of St. James' were clearly well under way.
The annual Christingle and Toy Service attracted the youngsters, the elderly and all those in-between!  Generous gifts of toys, books and puzzles, donated by parishioners will be shared with children seeking refuge and safety for whatever reason.
Now, time for a question:
What do you get when you mix an orange, a candle, some red sticky tape, four cocktail sticks, a handful of sweets and some dried fruit?
The answer:
A CHRISTINGLE!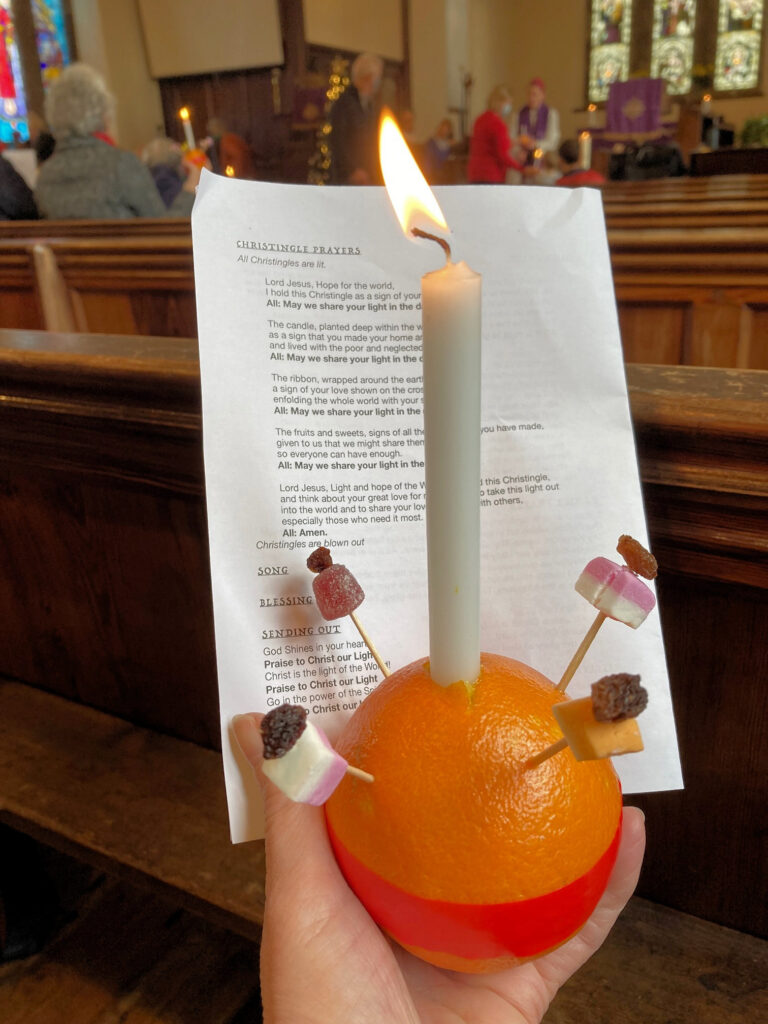 What does Christingle mean?
Christingle means Christ-light. At Christmas we celebrate the arrival of Jesus as a light to the world. The congregation of St. James' set about building their Christingle step by step, mindful of the symbolic meaning of each element:
The orange represents the world
The red tape symbolises the love Jesus has for each one of us and the blood he shed for us
The sweets and dried fruit remind us of God's goodness in creation
The lit candle demonstrates Jesus' light in the world, bringing hope to people living in darkness.
Once the Christingles were carefully constructed, the candles were lit to create a warm glow across the church, creating a powerful message of hope as we await the coming of Jesus at Christmas.
"Rejoice! Rejoice! Emmanuel shall come to thee, O Israel."