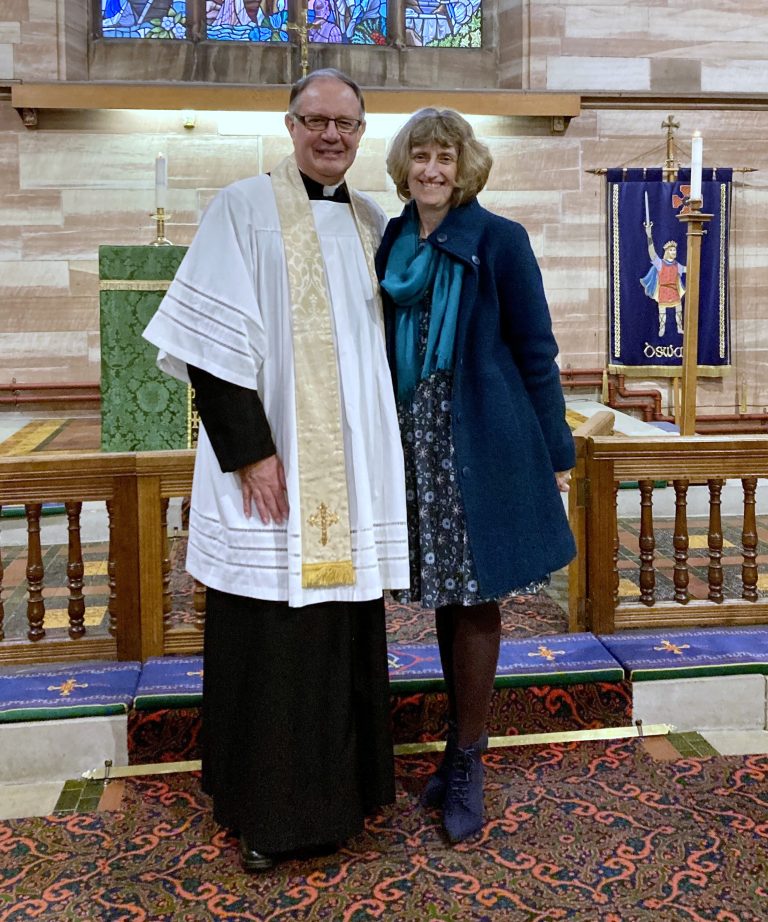 The Over Wyre Benefice has been richly blessed with the Licensing of Fr. Peter Walsh as the Interim Priest.
In a simple, but formal service, simultaneously joyful and uplifting, Fr. Peter was licensed by Right Reverend Philip North, Bishop of Burnley.  
The church family, comprising clergy and laity from all five of the Over Wyre parishes, gathered in force to witness this occasion.  Other guests included the Mayor of Wyre, members of the Parish Council, staff and students from the local schools, uniformed organisations, PCC members, Churches Together and Deanery representatives, family and friends. The church of St. Oswald, Preesall was certainly packed!
Several warm tributes were paid to the late Fr. Andy Shaw who sadly died last October.  By being licensed as Interim Priest, Fr. Peter will provide continuity of leadership during the period it will take for the Diocese to appoint a permanent priest.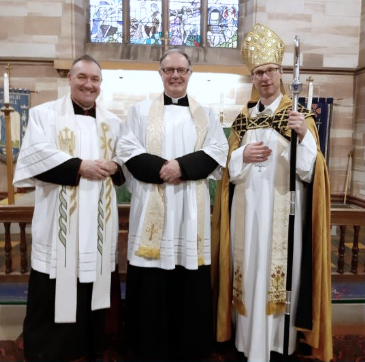 Fr. Peter responded with warm thanks to the many different groups of people gathered and spoke of his joy and privilege to be able to serve the
Over Wyre Benefice with his wife, Adele.  He sounded excited about the "great adventure" which lies before them.
Following the joint Benefice choir's rendition of 'Come Holy Ghost our souls inspire', there followed a series of declarations and oaths, during which
Fr. Peter affirmed his assent to the Church of England, his allegiance to the King and his Canonical obedience.  The clergy of the Benefice then gathered round Fr. Peter, a visual sign of encircling support and collaborative intent to work together in the work of Christ.
The service concluded with the Licensing of Fr. Peter, who was tasked to:
"…not forget the trust of those who have chosen you. In your work and ministry, and with your colleagues, care alike for young and old, strong and weak, rich and poor.
By your words and in your life preach the gospel.
Give time for yourself, your family and friends.
Love and serve Christ's people. Nourish them by word and sacrament and strengthen them to glorify God in this life and in the life to come."
Members of the 'Stay and Play' group led the prayers, ending with the Lord's Prayer.
To finish, the congregation sang, 'O Lord my God, when I, in awesome wonder' with great enthusiasm.  A powerful end, to a lovely, moving occasion.
In Fr. Peter's own words: "Together, we can do amazing things for God."

Abundant and delicious refreshments followed for everyone in St. Oswald's Parish Hall.
"Thank You" – received from Father Peter.
Dear All
Adele and I would like to take this opportunity to say a heartfelt thank you to you all for making Sunday's Licensing so profoundly special in so many different ways.
The service was a deeply moving moment of unity, love, and prayer. It was an inspiration to Adele and me.
The Church looked beautiful and was immaculately presented.
The combined choirs led our worship with joyful and prayerful enthusiasm.
After the service, the hospitality was fantastic, with such a tremendous selection of cakes.
Thank you to everyone who helped to make the occasion such an inspiration not just for us, but I hope for the whole united benefice.
With our love and our prayers
Fr Peter & Adele